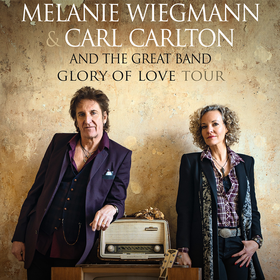 "Glory of Love" Tour
2023 gehen Melanie Wiegmann & Carl Carlton endlich wieder auf große Deutschlandtournee. Die "Glory of Love"-Tour präsentiert die neuesten Songs des Duos, dessen gleichnamiges Album offiziell am 1. September 2023 erscheint. Seien Sie live dabei, wenn Wiegmann & Carlton die Quintessenz der Liebe erforschen und sichern Sie sich jetzt Ihre Tickets mit Reservix!

Was Melanie Wiegmann & Carl Carlton so besonders macht, sind die verschiedenen Perspektiven auf ihr Musikprojekt. Sie ist ausgebildete Schauspielerin mit einer fabulösen Stimme, er leidenschaftlicher Gitarrist, Komponist und Produzent.

Bevor Melanie Wiegmann & Carl Carlton als Duo zueinanderfanden, ebneten sie sich jeweils eine beeindruckende Solo-Karriere. Melanie Wiegmann gilt als ein wahrer TV-Star. Die Schauspielerin mimte über acht Jahre lang die Natascha Schweitzer in "Sturm der Liebe", der erfolgreichsten werktags ausgestrahlten TV-Serie Europas. Zur Musik fand sie unter anderem durch das Musical "Mamma Mia!". Carl Carlton hingegen ist Vollblutmusiker. Schon ab den 80er-Jahren vertrauten ihm bereits Legenden wie Joe Cocker, Paul Young und später Robert Palmer, mit dem er 2003 einen Grammy gewann. Auf deutschem Terrain arbeitete Carlton mit Ikonen wie Udo Lindenberg, Peter Maffay und Marius Müller-Westernhagen.

Gemeinsam bilden sie ein echtes Ausnahme-Duo in der deutschen Musikszene. Melanie Wiegmann & Carl Carlton liefern Ihnen Konzerte voller Emotionen und virtuoser Akkuratesse. Jetzt Tickets sichern!
Source: Reservix